Series:
PANCAKE HOUSE MYSTERIES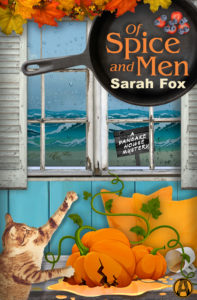 OF SPICE AND MEN (A Pancake House Mystery #3)
Release date: November 7, 2017.
With a Hollywood film crew in town to shoot a remake of the horror classic The Perishing, the residents of Wildwood Cove are all abuzz. Even Marley McKinney, owner of The Flip Side Pancake House, can overlook the fact that the lead actress, Alyssa Jayde, happens to be an old flame of her boyfriend. After all, the crew loves Marley's crêpes—so much so that Christine, the head makeup artist, invites her onset for a behind-the-scenes tour. But when Marley arrives, the special-effects trailer is on fire . . . with Christine inside.
The cops quickly rule Christine's death a murder, and Alyssa a suspect. Marley's boyfriend insists that the actress is innocent, but when Marley sticks her nose into the complicated lives of The Perishing's cast and crew, she discovers more questions than answers. It seems that everyone has a hidden agenda—and a plausible motive. And as the horror spills over from the silver screen, Marley gets a funny feeling that she may be the killer's next victim.
Available at:
Penguin Random House     Amazon.com     Amazon.ca   Chapters     Barnes&Noble     Google Play
---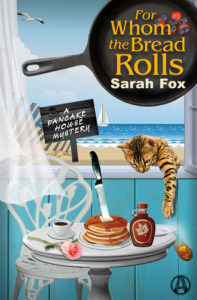 FOR WHOM THE BREAD ROLLS (A Pancake House Mystery #2)
Release date: March 14, 2017.
Tourist season's in full swing in the small seaside town of Wildwood Cove, and Marley McKinney couldn't be happier. Since taking over the Flip Side restaurant, she's made a few close friends, adopted a cat named Flapjack, and started dating her childhood crush. The only cloud on the horizon is local nuisance Ida Winkler, who blames Marley for landing her nephew in prison. Trying to get a rise out of Marley, Ida's been making crank calls and even vandalizing the pancake house.
The police can't do much about the pranks, so Marley sets out to bury the hatchet once and for all. But someone's beat her to it—in the most shocking way possible. After stumbling across Ida's dead body, Marley's suddenly the number-one suspect in her murder. Clearing her good name is going to be a tall order, but Marley's not about to let Ida keep ruining her life—especially from beyond the grave.
Available at:
---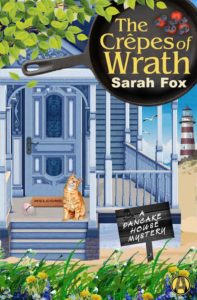 THE CRÊPES OF WRATH (A Pancake House Mystery #1)
Release date: August 16, 2016.
When Marley McKinney's aging cousin, Jimmy, is hospitalized with pneumonia, she agrees to help run his pancake house while he recovers. With its rustic interior and syrupy scent, the Flip Side Pancake House is just as she pictured it—and the surly chef is a wizard with crêpes. Marley expects to spend a leisurely week or two in Wildwood Cove, the quaint, coastal community where she used to spend her summers, but then Cousin Jimmy is found murdered, sprawled on the rocks beneath a nearby cliff.
After she stumbles across evidence of stolen goods in Jimmy's workshop, Marley is determined to find out what's really going on in the not-so-quiet town of Wildwood Cove. With help from her childhood crush and her adopted cat, Flapjack, Marley sinks her teeth into the investigation. But if she's not careful, she's going to get burned by a killer who's only interested in serving up trouble.
Available online at:
Penguin Random House     Amazon.com     Amazon.ca   Chapters     Barnes&Noble     Google Play
MUSIC LOVER'S MYSTERIES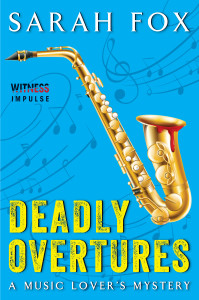 DEADLY OVERTURES (A Music Lover's Mystery #3)
Release date (e-book): June 7, 2016.
Release date (trade paperback): 2016.
Four talented classical music composers have been named finalists in a composing competition hosted by the Point Grey Philharmonic. With money and egos on the line, it doesn't surprise violinist Midori Bishop that the competition has brought out jealousy and bitter rivalries among the entrants. What does surprise her is finding one of the finalists murdered in the theater. With a cloud of suspicion hanging over the symphony's esteemed concertmaster, Midori orchestrates her own investigation, uncovering a medley of dark secrets and motives for murder. But can she bring the truth to light before the killer silences her forever?
Available online at:
HarperCollins     Amazon.com     Amazon.ca     Chapters     Barnes&Noble     Google Play     Itunes
---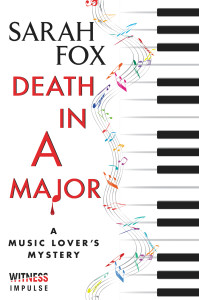 DEATH IN A MAJOR (A Music Lover's Mystery #2)
Release date (e-book): January 5, 2016
Release date (trade paperback): February 23, 2016.
When Archibald Major, local big wig and nasty tyrant, drops dead at a post-concert reception, violinist Midori Bishop soon suspects foul play. Although Midori has no intention of getting involved in another murder investigation, that all changes when Jordan—her violin student and the victim's grandson—seeks her help convincing the police that the real killer is his uncle, a low-level criminal. As Midori digs into the victim's life, she discovers that he was a man who created discord at every turn, even within his own family, and there is no shortage of potential suspects. When someone close to Midori unexpectedly confesses to the crime, Midori must race to discover the identity of the true killer before an innocent person goes to jail for a crime they didn't commit…and before Midori herself becomes a victim in the killer's deadly encore.
Available online at:
HarperCollins     Amazon.com     Amazon.ca    Chapters    Barnes & Noble    Google Play
---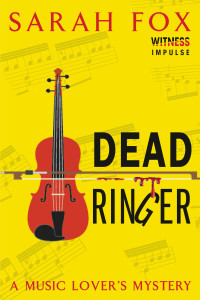 DEAD RINGER (A Music Lover's Mystery #1)
Release date: June 2, 2015
Midori Bishop's life is hitting all the right notes. She has her dream job playing violin in the Point Grey Philharmonic Orchestra, and is embarking on a new relationship with the symphony's hot maestro. But when Midori finds a cellist strangled to death during a rehearsal, the maestro soon becomes the number-one suspect and Midori his only supporter.
Midori sets out to prove the maestro's innocence, but soon discovers that he and many others have secrets they would rather keep hidden. For someone who was only a ringer—a temporary member of the orchestra—the dead cellist had certainly made a lot of enemies. And as the investigation takes Midori closer to the truth, the killer gears up for a grand finale—with Midori as the intended victim.
Available online at:
HarperCollins     Amazon.com     Amazon.ca    Chapters    Barnes & Noble    Google Play
---